City of Colton Announcements and Events
Click here to go to the San Bernardino County COVID-19 Response Website
Learn about schools reopening, vaccine information, testing sites, and schedule a test.
PPP Loans Available Again (as of February 2021)
Click here to download flyer (PDF)
H.E.A.R.D. Rental Assistance - Spring 2021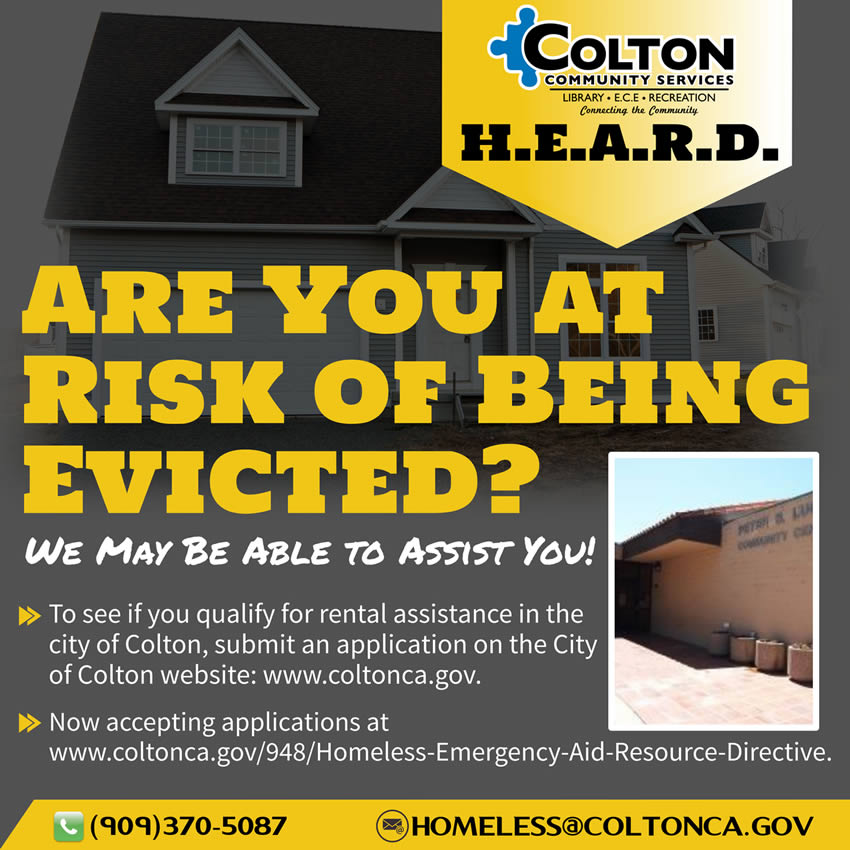 The online application for rental assistance is up and running. Since going live with the application in January 2021, 27 unduplicated applications have been submitted. The application must be completed in full. Once application has been submitted along with all documentation requested, applicants will be contacted and added to a waitlist. You can find this information on our website: https://www.coltonca.gov/948/Homeless-Emergency-Aid-Resource-Directive. If you have questions or someone you refer needs assistance with the application, contact 909-370-5087 or homeless@coltonca.gov.
Our food distribution dates will be on February 11, 4:00-6:00pm and February 25, 8:30-10:30am located at the Luque Community Center, 292 E "O" Street. Proof of residency is required.
Appointments are still available Monday-Thursday, 8am-5pm and Friday's 8am-12pm for anyone who is a Colton resident, or homeless, that needs food, clothing, hygiene items, and/or medical supplies (appointments are limited; offered on first come, first served basis).
Special Request: The Luque Center is looking for interview ready attire for our clothes closet. To better assist with stabilizing those in the community who are looking for jobs, we are in need of a wide range of sizes for both men & women. To drop off a donation, contact 909-370-5087 to coordinate.